so, paulie has been gone for a whole WEEK….
at first when he disappeared I was like yay! okay! johnny is free! I am a liberated man!
so I was like u know what!! I am going on a john lennon only vacation!! and then I was like wait?? where should I go?? oh wait, duh, America bc hot chicks like me there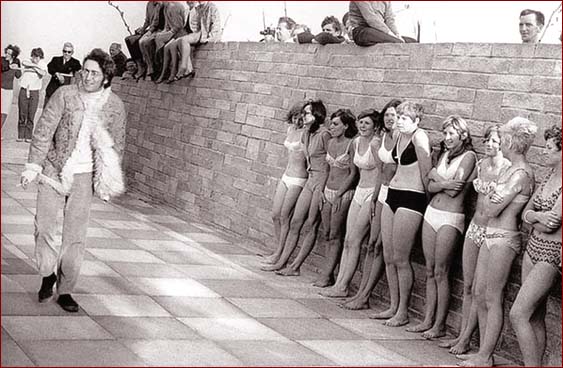 real picture of chicks lining up for me in 'murica. date: during the saddest days of my life (((bc my fellow BOHO was gone)))
but then I saw this man and I was like listen, ladies, youre hot and all, but this guy MIGHT KNOW WHERE PAUL IS!! so I have priorities cya later
so I hopped away from them and went to this man
and he didn't even know where paul was!!! he just wanted some travel directions!! so I gave them to him rly grumpily and I began to get worried and sad bc…
WHAT IF THE ALIEN THAT KIDNAPPED ME KIDNAPPED PAUL?? OH NO!!!
and I started getting all these scary images in my mind of that alien kidnapping paul like
look at her scary headgear!!!!!!!!!
 and then I was just so SAD nad SOLEMN and I walked around everywhere with this expression of pain
do u see it?? do u see the pain in my eyes??
 but all in all I was like NO WORRIES JOHNNY!! ITS JUST A SIGN FROM PAUL THAT U NEED TO MAKE NEW FRIENDS!!
so I tried
me and this guy became rly close idk who he is like keith Richards or something?? George Harrison??
we hung out sometimes but he just didn't dress as well as paul :(((( so I was like ill make more friends!!
so I met lots and lots of people
like:
i'm thumbs-upping to hide my pain
and
im smiling to try and appear happy but im dying inside bc WHERE IS PAUL
 and then I was like you know what this isn't working I need to get a new wardrobe!!! shopping solves all issues right?? so I went to this store and was looking ultra hot and modelicious when
damn I looked hot as ever!!! but not just that!!! It was also a sign!! I was superman!!!
so then I straightened myself up a bit
and now im ready to save paul from the evil alien who has him!!!!!!!!!! lets go team lennon!!!!!!!!
pls help me in my mission to bring back paulmccartneysfacebook !!!!#bringbackpaulmccartneysfacebook2k14 #stopthealiens2k14
I miss u paul!!!!!!